whats new? story of my life friends & family my motorcycle my car interests & hobbies links
. . . . . . . . . . . . . . . . . . . . . . . . . . . . . . . . . .
the story of cliff's life
(page optimized for a resolution of 800x600)

"the details of my life are quite inconsequential..."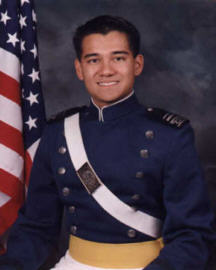 my name is cliff torrijos. i'm a 21 year old, filipino male. i am a 2nd
Lieutenant (2LT) in the United States Air Force (USAF). currently i
am stationed at davis-monthan air force base (dmafb) located in
tucson, arizona. thats me in a nutshell...
"...but how did i get in this nutshell?
-austin powers
. . . well, since you asked, i'll tell you. : )
i immigrated here to the united states with my parents when i was only
three years old. as a result, i have become quite "americanized". i lived
in malibu, california until i was ? years old. then i moved to oxnard,
california. i stayed there until i was ? when i moved to hawai'i for about a
year. afterwards, i moved back to oxnard (we had kept the house there)
and i stayed there until i headed for college.

preschool, kindergarten, 1st, & 2nd grade (our lady of malibu)

3rd (juanita; oxnard, ca)

4th, & 5(1/2)th grade (gate program; oxnard, ca)

6(1/2)th (hilo, hawai'i)

7th & 8th grade (our lady of the assumption; ventura, ca)

high school (villanova preparatory school; ojai, ca)

college (us air force academy; colorado springs, co)

life in the air force (davis monthan afb; tucson, az)

go home!